WhatsApp Update: A new version to have cover photo like Facebook.
| Victor Ajayi
Since the metaverse adoption into the facebook social media platform family. Different facebook platforms are taking new shape. With the incorporation of thrilling features to enhance their interface and improve users' experiences. WhatsApp, the Meta-owned instant messaging app is not left out of the movement. Has, it is now being reportedly updated to allow users — set cover pictures for their profile. 
Now, the feature has been enabled for beta testers; who would have a foretaste of what its pros and cons would be. However, it's obvious there will be some changes in the Business profile setting. This was spotted via a whatsapp update tracker WABetainfo.  
Where will it show up on WhatsApp?
With the current framework of recent whatsApp versions. Many users are curious on how possible the update could be. And most importantly where the cover picture feature could possibly be located. However, here it well it's gonna be…
Users from your contact list on WhatsApp, will have to look up your profile. Either by typing your name or by the use of your contact number. They will be able to see a picture behind your profile photo thumbnail and WhatsApp status. Currently, WhatsApp has worked on implementing the feature for its iOS business accounts. However, the company is also planning to introduce the same feature for its Android business accounts. 
[caption id="" align="alignnone" width="1024"]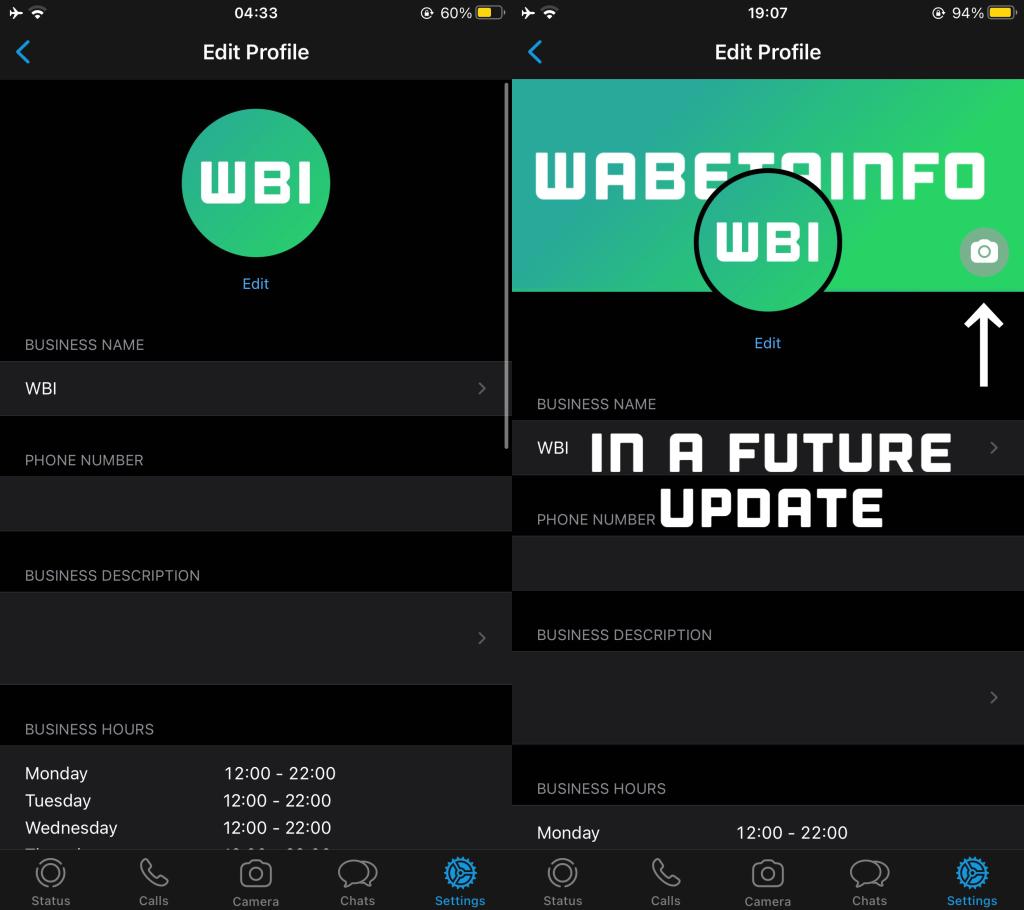 Credit - WABetaInfo.com[/caption]
Furthermore, WhatsApp plans to release a 'Community' feature with its next update, which will give group administrators more control over their groups. The Community feature is like a group chat, with a private place. This is what enables group admins to have more control over their groups on WhatsApp.
How to update WhatsApp cover image?
With respect to the screenshot released by WABetaInfo. The profile section for iOS and Android has been modified to host new cover photos. The update also switches the position of business name, phone number, description and other icons. To accommodate the cover photo feature.
To update and change your cover photo; you will tap on the camera icon. This will enable you to take a photo or use an existing image from your storage. Then your friends will be able to view your cover image once your profile is visited.   
WhatsApp cover photo on desktop mode.   
The whatsApp desktop mode will enable this new feature. Since it was reported the new feature supports iOS. So you're using a whatsApp compatible operating system, you wouldn't have to worry about that.
However, WhatsApp has tipped on the introduction of a new indicator for Desktop mode. This will enhance users' chats protection with end-to-end encryption. This improved privacy covers for calls, messages, and attachments. Using the signal protocol, metadata which prevents them from being shared with the parent company Meta. The indicators were detected in the latest desktop version expected to be released soon.  
When will WhatsApp unleash the cover photo feature?
As at now, the feature is still being tested and progress is being made on the update. Meanwhile, the release date or period of the new version. And the cover image feature has not been made known by the company. But it's possible it could take place in a couple of months, hence kindly watchout.